EGKA Karate Nationals
7 March 2017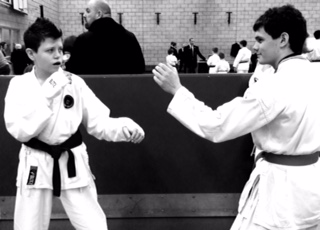 Charlie and Mark, took part in the Regional Championships last week at Woodchurch Sports Centre.
Charlie, Year 9, came 2nd in Kata, a performance of patterns, and 3rd in fighting whilst Mark, Year 11, who was competing in his first ever competition, came 2nd in Kata and 1st in fighting.
Both Charlie and Mark will now head to Stratford Upon Avon in October to represent the North West and compete in the National Championships.
EGKA Karate is dedicated to teaching the traditional Okinawan martial art of Go Ju – Ryu: a style focused on competition fighting and teaches strikes, throws, locks and ground grappling techniques. However, the true motivation of this sport is the benefit it gives to both mental and physical self-improvement, with the discipline seeing marked differences in individuals' self-confidence, fitness and co-ordination, which is something that follows the boys into their academic lives.
Mark, who was competing against a purple belt opponent which is four grades higher than his red belt, said after his win: "I was nervous but had trained really hard, I am so pleased to have won. Learning a new discipline has taught me that dedication pays off which is something I now apply to my school work."
Birkenhead Karate Academy Sensei, Peter Galer, said: "I am so proud of both boys. They are a credit to their school and to the karate academy. Mark is a natural and the dedication both boys show is outstanding; they practise outside no matter what the weather."